Children's Dentistry in Port Orchard, WA
Since 1973, Dentistry For Children has been the premier children's dentist serving patients from infants to adolescent in Port Orchard, WA. Our tradition of ethical and collaborative dental care is one that we continue to uphold throughout the years. We are focused on providing the highest caliber of dentistry for kids ensuring healthy smiles for many years to come. By using up to date technology combined with a gentle approach, we are able to give each child the quality dental care that they need.
We Prioritize Your Child's Comfort
At Dentistry For Children, our focus on pediatric dentistry encompasses all aspects of children's dental health. Our dental services include preventative care, restorative care, special needs care, and emergency care. Our staff also has the training and expertise needed to help each child through their dental visit. With options such as nitrous oxide and sedation available, we aim to offer the flexible solutions for the optimal comfort of our patients.
For the best in children's dentistry services in Port Orchard, WA, you can depend on Dentistry For Children. Our pediatric dentists are highly trained to offer the best dental solutions for children of all ages in Port Orchard, WA. Whether you need to schedule an appointment for your child's first tooth or fit your teenager for braces, we will be with you every step of the way.
Contact Us
Contact Dentistry For Children for more information about our dental services by calling us at (360) 377-3844 or (360) 876-9507 today. We look forward to bringing out the best in your child's smile.
Children's Dentistry Near Port Orchard, WA
Request Appointment

Bremerton Office
(360) 377-3844
1425 NE Franklin Ave.
Bremerton, WA 98311
Hours
Mon - Fri: 8 am - 4 pm
Providing children's dental care to:
Bremerton, Silverdale, Poulsbo, Bainbridge
Port Orchard Office
(360) 876-9507
1931 Pottery Ave.
Port Orchard, WA 98366
Hours
Tues, Thur & Fri: 8 am - 4 pm
Providing children's dental care to:
Port Orchard, Gig Harbor
Patient Referral Form
More Office Info

More Testimonials
Member

Diplomate, American Board of Pediatric Dentistry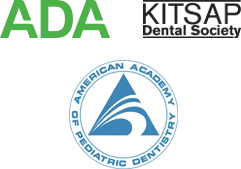 News Archive
At What Age Can Your Child Brush Their Own Teeth? Should you be worried about your child's teeth grinding? Digital Films and Electronic Health Records: Life just got easier Diet, Cavities, & Bug Poop A Second Opinion Dental Apps For Your Mobile Device Felix Tooth Paste Is Gum Chewing Really Good for Your Teeth?