Pediatric Dentistry for the Port Townsend, WA Area
It is very important to find the right dentist for your child. This is priority number one when you want to make sure your child receives the best dental care possible. At Dentistry for Children, we offer general and specialty dental services for kids in Port Townsend, WA and the surrounding areas. Our team includes three highly trained and experienced pediatric dentists in addition to a courteous, professional staff that will provide you and your child with a relaxing and fun experience in our dental office.
Dentistry for Children You Can Trust
For nearly five decades, we have served our pediatric dentistry patients with first-class dental services using the latest in technology and procedures along with a caring, personal touch from our professional dentists and dental assistants. Our goal is to help your child enjoy a lifetime of excellent oral health.
Dr. Jeff Hays, Dr. Michael Becker, and Dr. Katrina Hays are strongly dedicated to serving patients in the local Kitsap County area. Each of our talented dentists possesses a Dental Degree (DDS), Masters Degree (MS or MSD), and a Pediatric Dentistry certificate.
Dentistry for Kids of Any Age
At Dentistry for Children, we offer exceptional pediatric dentistry services for kids of all ages, including infants, toddlers, older children, and teenagers.
We work in close cooperation with the parents of our young pediatric dentistry patients in order to implement a customized dental care program to meet their oral health needs. Our number one job is to deliver children dentistry services that produce the best results for your family.
We also focus on educating parents and their children on ways to promote long-term dental health.
See You Soon!
We are here to serve your child with the most inviting, comfortable, and relaxing environment for pediatric dentistry care. If you are in the Port Townsend WA area, contact us today to set up an appointment or learn more about your first visit to our pediatric dental care office.
Request Appointment

Bremerton Office
(360) 377-3844
1425 NE Franklin Ave.
Bremerton, WA 98311
Hours
Mon - Fri: 8 am - 4 pm
Providing children's dental care to:
Bremerton, Silverdale, Poulsbo, Bainbridge
Port Orchard Office
(360) 876-9507
1931 Pottery Ave.
Port Orchard, WA 98366
Hours
Tues, Thur & Fri: 8 am - 4 pm
Providing children's dental care to:
Port Orchard, Gig Harbor
Patient Referral Form
More Office Info

More Testimonials
Member

Diplomate, American Board of Pediatric Dentistry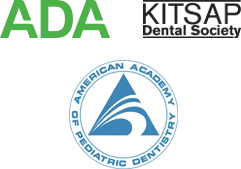 News Archive
The DFC Family is Growing! Baby's First Dental Check-Up Seal Out Tooth Decay A Sweet Story Halloween Tricks for All Those Treats! Choosing New Dental Insurance? Ask These Questions Before You Buy! Where's Cheesie? Shark Teeth: When Should You Worry?