Create Great Oral Health Habits in Your Children with Pediatric Dentistry in Poulsbo, WA
Taking care of your teeth and mouth is a lifelong commitment, and when these healthy habits are promoted at a young age, you can prevent significant damage in the future. Dentistry for Children is the leading pediatric dentist in Poulsbo, WA, offering compassionate and caring service for routine and specialized care. With over four decades of experience, our approach is collaborative and ethical to ensure that your children are always comfortable in maintaining their oral health and hygiene habits now and in the future.
Personalized Dentistry for Kids Delivered in a Collaborative Approach
When it comes to children dentistry, it takes a collaborative approach to instill proper habits that will extend for a lifetime. At Dentistry for Kids, we work with patients as well as their caregivers to develop a tailor made treatment approach that not only solves immediate problems but will prevent problems in the future. We work with children of all ages as well as those with special needs to promote oral health and hygiene in the most effective manner. Our pediatric dentists create a warm and welcoming environment that will promote ongoing dental care for the rest of your child's life.
Schedule an Appointment for Dentistry for Children Today
Promoting proper oral health from an early age is important in keeping your child's teeth clean and healthy. For more information or to schedule an appointment with Dentistry for Children in Poulsbo, WA, call today at (360) 377-3844.
Request Appointment

Bremerton Office
(360) 377-3844
1425 NE Franklin Ave.
Bremerton, WA 98311
Hours
Mon - Fri: 8 am - 4 pm
Providing children's dental care to:
Bremerton, Silverdale, Poulsbo, Bainbridge
Port Orchard Office
(360) 876-9507
1931 Pottery Ave.
Port Orchard, WA 98366
Hours
Tues, Thur & Fri: 8 am - 4 pm
Providing children's dental care to:
Port Orchard, Gig Harbor
Patient Referral Form
More Office Info

More Testimonials
Member

Diplomate, American Board of Pediatric Dentistry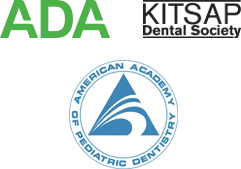 News Archive
Baby's First Dental Check-Up Seal Out Tooth Decay A Sweet Story Halloween Tricks for All Those Treats! Choosing New Dental Insurance? Ask These Questions Before You Buy! Where's Cheesie? Shark Teeth: When Should You Worry? Top Tips for Terrific Teeth