Your First Visit
We are passionate about creating a welcoming and comfortable environment for your child's dental care. We want your child's first visit to go smoothly. We have broken it down to a few easy steps.
Make an Appointment

You know your child and what time of day they are at their best. We will try to accommodate you and your child with an appointment time that works well. You can request a appointment time using our convenient online form linked below, or give us a call and arrange a specific time with our patient scheduler.
Fill out some forms

You can now fill out your new patient forms online in our secure portal. Or if you would prefer, you can download the forms as a PDF, then print, read and fill them out. If you print the PDFs, please bring these forms with you to your child's first visit. If you would like us to bill your insurance company, please bring your dental insurance card with you to the 1st appointment.
These forms are for new patients only – either fill out online or download the PDFs and print/fill out, no need to do both:
Relax

There is no need to over prepare your child for the first visit. We encourage parents and caregivers to stay positive and let us "do the talking" about any questions or worries your child has. Children can sense anxiety so it is important to not use hot-button words like "Hurt, Shot, Drill and Needle". We will address any concerns you may have about your child's oral health and together outline a "road map" forward to re-enforce good habits and stress prevention starting at an early age.
Get Directions

Get our address and directions on our Offices page so you can arrive at our office hassle free and on time. We have plenty of parking at both locations. If you would like more information on what to expect when bringing your children in for a visit, you can find more detail on our Dental Services page. If you don't find answers to all your questions, you are welcome to give us a call. We are here to help.
Request Appointment

Bremerton Office
(360) 377-3844
1425 NE Franklin Ave.
Bremerton, WA 98311
Hours
Mon - Fri: 8 am - 4 pm
Providing children's dental care to:
Bremerton, Silverdale, Poulsbo, Bainbridge
Port Orchard Office
(360) 876-9507
1931 Pottery Ave.
Port Orchard, WA 98366
Hours
Tues - Fri: 8 am - 4 pm
Providing children's dental care to:
Port Orchard, Gig Harbor
Patient Referral Form
More Office Info

More Testimonials
Member

Diplomate, American Board of Pediatric Dentistry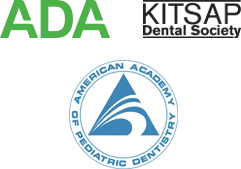 News Archive
Baby's First Dental Check-Up Seal Out Tooth Decay A Sweet Story Halloween Tricks for All Those Treats! Choosing New Dental Insurance? Ask These Questions Before You Buy! Where's Cheesie? Shark Teeth: When Should You Worry? Top Tips for Terrific Teeth