Children Dentistry in Silverdale, WA
Dentistry For Children offers amazing dental care for children of all ages in Silverdale, WA and the nearby areas. When it comes to children's dentistry, no other dental practice offers the same level of kind, compassionate, and caring dental services. Since 1973, we have been offering dentistry for children with a focus on gentle dental care. Our 3 experienced pediatric dentists and professional staff is ready to make sure that you and your children enjoy a positive dental experience.
Top Notch Dental Services
Dentistry for kids requires a patient and understanding dentist who will work with your child's needs and fears. Thankfully at Dentistry For Children, you can get exactly this type of care for your child. We focus on making each child feel at ease while providing top notch dental services all throughout the year. You can rest assured knowing that our dentists offer the highest caliber of pediatric dentistry in the local area of Silverdale, WA.
Modern Children's Dentistry
At Dentistry For Children, we stay up to date on the latest and most modern dental technology. This allows us to provide modern dentistry services so your child can enjoy a healthy and beautiful smile. Dr. Michael Becker, Dr. Katrina Hays, and Dr. Jeff Hays are here to help your child have a brighter and more luminous smile for many years to come. Give us a call to schedule an appointment today!
Schedule a Dental Appointment
Contact us to schedule a dental appointment for your child in Silverdale, WA by calling us at 1(360) 377-3844.
Children's Dentistry Near Silverdale, WA
Request Appointment

Bremerton Office
(360) 377-3844
1425 NE Franklin Ave.
Bremerton, WA 98311
Email:
office@kitsapdfc.com
Hours
Mon - Fri: 8 am - 4 pm
Providing children's dental care to:
Bremerton, Silverdale, Poulsbo, Bainbridge
Port Orchard Office
(360) 876-9507
1931 Pottery Ave.
Port Orchard, WA 98366
Email:
office@kitsapdfc.com
Hours
Tues, Thur & Fri: 8 am - 4 pm
Providing children's dental care to:
Port Orchard, Gig Harbor
Patient Referral Form
More Office Info

More Testimonials
Member

Diplomate, American Board of Pediatric Dentistry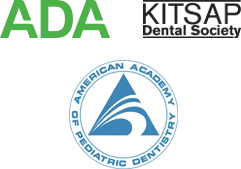 News Archive
The DFC Family is Growing! Baby's First Dental Check-Up Seal Out Tooth Decay A Sweet Story Halloween Tricks for All Those Treats! Choosing New Dental Insurance? Ask These Questions Before You Buy! Where's Cheesie? Shark Teeth: When Should You Worry?